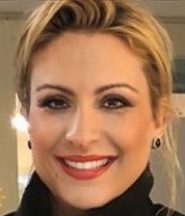 CEO
BL Nanobiomed P.C
Dr. Varvara Karagkiozaki is a Specialist Cardiologist, with BSc in Medicine, MSc in Nanotechnologies, and PhD in Nanomedicine. She has over 20 years of Clinical experience working in hospitals as a medical doctor and she had been working as an Honored Clinical Fellow in Cardiac Unit at University Hospital of Southampton in UK. She has been leading since 2009 the Nanomedicine Group at Nanotechnology Lab LTFN of AUTh, a core of excellence in Thin Films and Nanobiomaterials Technologies, Nanomedicine, Organic Electronics and Bioelectronics. She runs her own Private Cardiology Clinic in which Nanomedical tools, and high-tech Biosensors are applied for patients monitoring and treatment.
Dr. Karagkiozaki is the Co-founder of the BL Nanobiomed P.C, a Nanomedicine company that applies Nanotechnologies, Bioelectronics, Nanomedicine, and 3D Bioprinting to deal with unmet medical needs, to develop Biosensors, Nano-therapeutics involving multifunctional Nanoparticles, Drug delivery nanoplatform and Scaffolds for tissue regeneration for the early diagnosis and treatment of major chronic diseases. Transferring the technologies arising from Nanomedicine and Bioelectronics research into Clinical reality and generating commercial value from research, BL relies on the generation of IPs, technology transfer, and collaborative product development for health applications. The well-established strong collaborations with the Nanotechnology Lab LTFN, Hospitals and Clinics for clinical validation of Biosensors and Nano-therapeutics and especially with OET guarantee the innovation and clinical effectiveness of its medical products.
She has been recently appointed as CEO of OET, a world leader with heavy portfolio in Thin Film Technologies and R2R Manufacturing of flexible Organic Electronics Devices (OPVs, OLEDs, RFIDs, Bio-Sensors, IoT) for added value products in energy, lighting, and health sectors.
She is the Founder and Coordinator of the Greek Nanomedicine Platform and member of European, American, and International Nanomedicine societies. She had more than 180 invited talks, in European and International Nanotechnology Conferences. She published 40 research papers and monographies in peer reviewed journals. Moreover, she owns patents and she executed many European R&D Projects. She is the Co-Editor of Horizons in Clinical Nanomedicine Book. She is since 2010 Chair of the Organizing Committee for Nanomedicine and Bioelectronics Workshops at International NANOTEXNOLOGY with >1000 participants from 60 countries.
---